Websites. We've all heard of them, visit them and consume their content, but what are they exactly? How do they come into being? The short answer is that they are documents that are being read by web browsers and displayed on your screen, but the long answer is much more complex than that. That's what we're here to help answer.
While there are many paths you can take to create a website, a popular choice time and again is to utilize a website builder. Whether you are a beginner or a design professional, website builders like Wix offer solutions for your needs. Our complete guide will walk you through the essential steps you need in order to build a site using Wix. This article will also help you understand all of the moving parts that go into a website, no matter which route you take.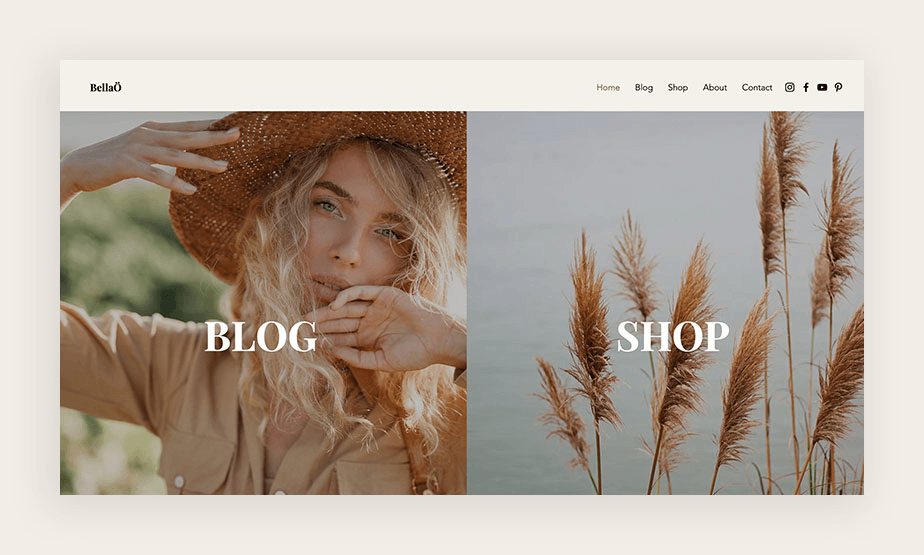 Here are some items to consider when creating a website
Design & content
Domain names

---
01. Wix ADI

Best for: the complete beginner or someone who needs a website made quickly

Wix ADI is a free website creation platform that employs AI technology to build a custom website for you in just minutes. First, you'll need to answer some questions regarding what type of website you are looking for, what you want your website to contain, as well as some design preferences. Then, you let the tool do the heavy lifting. It will produce a site that is tailor made according to your preferences, with personalized design and content embedded on the site. It will also provide a mobile optimized version of your site without requiring any adjustments.

You can of course go in and make some design changes or tweaks as you see fit, however the technical part will be taken care of. For more advanced capabilities, you can move over to use the regular Wix Editor to add any additional elements you had in mind.

We highly suggest trying Wix ADI if you are unsure about creating a site for yourself, just need a little more time on your hands, or are looking for a great starting point for your site.

---
02. Wix Editor

Best for: anyone looking to create their own site. Can be a beginner or experienced.

The Wix Editor, as it sounds, is a platform that you can use to create and edit your own sites. It employs innovative drag and drop technology which enables you to easily add or change elements on your site and has a plethora of built-in design options. The true benefit of the Editor is that it provides a number of different routes to help you create a professional website and gives you the flexibility to adjust your site as you see fit.

Learn the ins and outs of building a website with the Wix Editor.

a. Templates

Best for: templates are truly for anyone and everyone looking to get online.
Website templates are a great choice for anyone looking to create their own site. Wix's templates are made by professional designers, with over 900 options for your picking. You can be sure that whatever niche your website falls into, there will be a template waiting for you. We suggest exploring these website templates by category to find the one that best suits your needs or design preferences. You can also delve into these Wix websites for inspiration and to give you an idea of what a template looks like in action.
No matter which template you choose, the Wix Editor provides you with the freedom to add and remove site elements with ease so that you can adapt the look and feel of your site. Whenever you choose a template with Wix, you will automatically be taken into the Wix Editor which allows you to customize as you see fit.

b. From scratch

Best for: those who feel comfortable with design and don't fear the white canvas.

For those looking to build a website from scratch, the Wix Editor is a great option. You can select a totally blank canvas, or a template that has minimal layout built-in without any additional design, leaving the rest up to you. You can even turn your website into an app. This gives you complete freedom to imagine your site in any way that you desire and add any elements that you wish.

Once you pick a blank template, you will be taken directly into the Wix Editor to drag and drop the components that you want. This enables you to play around with layout, colors, buttons, functionalities and much more.

c. Velo

Best for: those looking for advanced customization capabilities.

Creating your site with the Wix Editor, also allows you to use Velo by Wix. Velo is a coding platform that enables you to add custom functionality to your website, like CSS and RSS. You can start the design of your site with the Editor and then add databases to create dynamic content or use the integrated code editor to add JavaScript and customize the functionality and interactivity of your site.

You can also consider using Wix Apps on your site and customizing their behavior using Velo APIs. In this way, you can truly add any element you desire to your site.

The advantage of using a low code no code platform like Velo is that it is a built-in function that is seamlessly embedded within Wix sites. When in the Wix Editor, you simply have to turn on "Dev Mode" in order to start adding in your own custom code. Velo also provides production tools so you can monitor and fix your web apps in real time without having to leave the platform.

---
03. Hire a professional

Best for: those looking for an extra professional look, without much time of their own.

A great route to take if you are looking for an outstanding website is to hire a professional. You can hire a web professional at the start of your journey to help you create your site from scratch, or you can bring someone in after you've started the building process to help with more specific tasks.
If you're looking for someone to assist with the entirety of your website, we suggest starting with a web designer. Web designers create websites for a living and can ensure that your site has the look, feel and functionality you want. While hiring a designer will cost you more money than creating a site alone, they can help guarantee that your site gets a professional touch.

There are also other aspects that go into a great website which a freelancer can help you with. These might include designing a specific element on your site, assisting with site content creation and helping with your SEO.